Yesterday we did a database refresh between two of our Non-Production OneBox environments an this morning I got an email. The users where having problem viewing invoices in All Sales Orders. The error they got looked like this:
"Something went wrong while generating the report. Please try again"
That was not extremely helpful so I started looking around and found information on how to get a detailed log:
1. Click on Environment monitoring.
2. Click on Raw logs
3. In the query name field, select "All events for activity"
4. Copy 78ca1c74-3c56-4f6b-8c18-a4034876780d in the activity ID
5. Click on shows options and set Row limit to 5000.
6. Click on search.
7. Scroll down towards the end to see exception message.
And that got me (not very useful):
at [aoskernel.dll]Microsoft.Dynamics.Ax.MSIL.Interop.GetManagedCallStack(basic_string<wchar_t\,std::char_traits\,std::allocator >* ) at [aoskernel.dll]Microsoft.Dynamics.Ax.Services.AOSAppDomainHelper.callGetManagedCallStack(basic_string<wchar_t\,std::char_traits\,std::allocator >* ) at callGetManagedCallStack(basic_string<wchar_t\,std::char_traits\,std::allocator >* ) at cqlClass.callEx(cqlClass* , Char* , interpret* ) at cqlClass.callEx(cqlClass* , Char* , interpret* ) at [aoskernel.dll]Microsoft.Dynamics.Ax.MSIL.cqlClassIL.Call(IntPtr c, String methodName, Object[] parameters, Type[] types, Object[] varargs, Type[] varargsTypes) at [Microsoft.Dynamics.AX.Server.Core.dll]Microsoft.Dynamics.Ax.Xpp.XppObjectBase.Call(String methodName, Object[] parameters, Type[] types, Object[] varargs) at [Microsoft.Dynamics.AX.Xpp.Support.dll]Dynamics.AX.Application.xInfo.add(Exception exception1, String text1, String text2) at [Dynamics.AX.ApplicationPlatform.dll]Dynamics.AX.Application.Info.`add(Exception _exception, String _txt, String _helpUrl, XppObjectBase _sysInfoAction, Boolean buildprefix, String _label, Boolean @_helpUrl_IsDefaultSet, Boolean @_sysInfoAction_IsDefaultSet, Boolean @buildprefix_IsDefaultSet, Boolean @_label_IsDefaultSet) in xppSource://Source/ApplicationPlatform\AxClass_Info.xpp:line 335 at [Dynamics.AX.ApplicationPlatform.dll]Dynamics.AX.Application.Info.InfoCoCHelper.`add(Info instance, Exception arg0, String arg1, String arg2, XppObjectBase arg3, Boolean arg4, String arg5, Boolean , Boolean , Boolean , Boolean ) at [Dynamics.AX.ApplicationPlatform.dll]Dynamics.AX.Application.Info.add(Exception _exception, String _txt, String _helpUrl, XppObjectBase _sysInfoAction, Boolean buildprefix, String _label, Boolean @_helpUrl_IsDefaultSet, Boolean @_sysInfoAction_IsDefaultSet, Boolean @buildprefix_IsDefaultSet, Boolean @_label_IsDefaultSet) at [Dynamics.AX.ApplicationPlatform.dll]Dynamics.AX.Application.Info.add(Exception _exception, String _txt) at [Dynamics.AX.ApplicationFoundation.dll]Dynamics.AX.Application.SrsReportViewerControl.`displayErrorMessage(String message) in xppSource://Source/ApplicationFoundation\AxClass_SrsReportViewerControl.xpp:line 870 at [Dynamics.AX.ApplicationFoundation.dll]Dynamics.AX.Application.SrsReportViewerControl.SrsReportViewerControlCoCHelper.`displayErrorMessage(SrsReportViewerControl instance, String arg0) at [Dynamics.AX.ApplicationFoundation.dll]Dynamics.AX.Application.SrsReportViewerControl.displayErrorMessage(String message) at SrsReportViewerControl::displayErrorMessage(Object , Object[] , Boolean& ) at [Microsoft.Dynamics.AX.Xpp.Support.dll]Microsoft.Dynamics.Ax.Xpp.ReflectionCallHelper.MakeInstanceCall(Object instance, String MethodName, Object[] parameters) at callILClassMethod(interpret* ip, Char* method, UInt32 chdl, cqlClass* c) at [aoskernel.dll]Microsoft.Dynamics.Client.ServerForm.Interactions.InteractionHandler.InvokeCommand(CommandInteraction interaction, CommandCallbackInteraction& result) at [aoskernel.dll]Microsoft.Dynamics.Client.ServerForm.Interactions.InteractionHandler.HandleCommandInteraction(CommandInteraction interaction, List`1 outboundInteractions) at [aoskernel.dll]Microsoft.Dynamics.Client.ServerForm.Interactions.InteractionHandler.HandleInteractions(IInteractionChannel interactionChannel) at [aoskernel.dll]Microsoft.Dynamics.Client.ServerForm.Interactions.InteractionManager.ProcessMessages(Object stateinfo) at [mscorlib.dll]System.Threading.ExecutionContext.RunInternal(ExecutionContext executionContext, ContextCallback callback, Object state, Boolean preserveSyncCtx) at [mscorlib.dll]System.Threading.ExecutionContext.Run(ExecutionContext executionContext, ContextCallback callback, Object state, Boolean preserveSyncCtx) at [mscorlib.dll]System.Threading.QueueUserWorkItemCallback.System.Threading.IThreadPoolWorkItem.ExecuteWorkItem() at [mscorlib.dll]System.Threading.ThreadPoolWorkQueue.Dispatch()</wchar_t\,std::char_traits</wchar_t\,std::char_traits</wchar_t\,std::char_traits
So I started to look around a little and found the System administration – Setup – Server Configuration and noticed that there were 2 servers… in a OneBox Environment…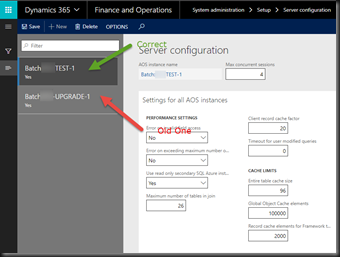 The migration server was still there and it seemed that it was trying to have that one generate the report. When I removed the extra server it started working
/Johan